Only plans with a 300 member/account limit or higher can create multiple admins.
Admin permissioning was designed to give you flexibility in the the level of access you provide to your admins. Let's take a look at how it works!
Setting Up Secondary Admins
Only the primary administrator for the account can setup other admins. Once signed in as the primary administrator, you can set up your secondary admins under Organization Settings > Admins. You start off entering the admins contact information. It is important to put the email for each admin as they will use that to sign in. Admins can request a password from the system so there is no need to assign one.
You can restrict access to different parts of the system for each admin:
Access To Members/Accounts

Next you decide which folders the admin will have access to by clicking on the folders names. You can give each admin read only access so they can look up information but not make any changes, or you can give full admin privileges to allow them to make changes to profiles and billing, add or remove entries in the Timelines, and delete accounts.

Giving access to a folder is a great way to let your committee chairs access to their committee without giving them full access to your membership. If you're worried about the committee chair making changes to the system you can give them read only access and they can export the committee list to email about committee business. If you have more trust in the chair you can give them full access and allow them to make notes on the member's timeline or move them out of the committee folder.

Access To Forms/Carts/Donations

In addition to folders you can also give admins access to forms including donation, shopping and regular forms. Just like with the folders you can give read only or full access by form.

For example, you can give access to your shopping form to your inventory manager so that they will be able to process and track orders. You can give them read only access if you just need them to send the orders of full access so that they can make changes to the form, such as changing item quantities.

Access To Events

You can give admins full access to your events or restrict them from the event portion. If you have an event chair you may want to give them access to just your events and no folders or forms. This way they'll be able to create and manage events but won't have access to see or change membership details. Don't forget you can still give members the ability to post events through Event Categories.

Access To Dashboard

There are 3 choices for dashboard access. You can give no access so that the administrator will not be able to see your financial reporting. This is a great selection for committee chairs that just need to access their committee members.

The second option is to allow them to see the full dashboard. This setting is perfect for your accountant or treasurer. They will be able to export your financial reports to a spreadsheet or QuickBooks.

The final option lets them see the dashboard but it will only be populated with information from folders and forms that you have given them permission to access. This may be useful if you are starting a new chapter and only want them to access their information.

Access To Messages

You choose whether or not to give your admins the ability to send and view messages.

Access To Labels & Memberships

Admins who have admin access to the labels and memberships will be able to create and edit them. This access is great for your membership coordinator as they may need to add or change memberships. However, it may be that admins like committee leaders are better off without this access.

Access To Templates/Customization

You can give access to your membership signup, member manage and admin templates. This is great if you have a developer or employee helping you set up MembershipWorks.

Access To Discounts

Admins who create events or memberships may also want to create or change your discount codes. You can control whether or not they have access to do this.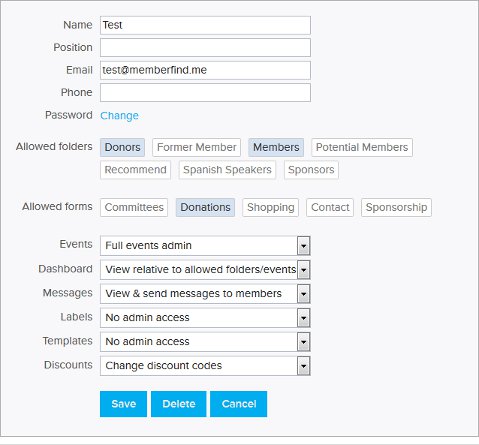 Admin Login
Admins will be able to login in two ways:
If you are using a WordPress website and have our plugin installed on the site, you can provide your admins a WordPress admin login and password. Once they are logged into the WordPress, and they will be able to login to our system from the administrative side of WordPress.
Admins can login at https://membershipworks.com/admin. They can also request a password from there.
If an Admin is also a member they can use the same or different emails and passwords for the admin and member accounts. However the admin and member accounts are distinct and separate. So to avoid confusion, we recommend having the admins login using option #2 above.