How Do I Export Event Financials To QuickBooks?
From your event dashboard, click on "Export QuickBooks". For QuickBooks Desktop, that will download a IIF file that you can import into QuickBooks. For QuickBooks Online, that will send the transactions to your QuickBooks Online account.
IMPORTANT: For QuickBooks Desktop you should only import the transactions once, QuickBooks will create duplicate transactions if the same transaction is imported twice.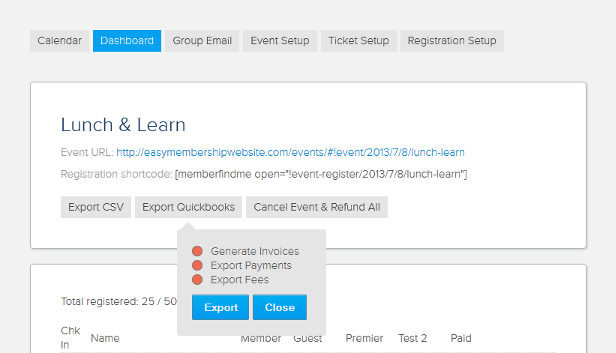 Default Export Settings For QuickBooks IIF
By default, invoices are created against the standard "Accounts Receivables" account. Tickets are invoiced as "Event Ticket" items, which are recorded against "Event Sales" account. Any adjustments or discounts are invoiced as "Event Adjustment" item recorded against "Event Sales".
Payments are recorded against "Undeposited Funds" by default. Fees are recorded as a General Journal entry between "Undeposited Funds" and "Event Fees" account.
If any of these items or accounts are not already setup, QuickBooks will automatically create the items and accounts. Note that accounts will be created as Bank accounts, so you will want to edit them to be Income or Expense accounts appropriately so they will reflect in your P&L statement.
You can change the accounts and items under Organization Settings > Accounting.